I just got this lift to install in the bed of my deuce to make loading and unloading heavy objects easier. I am looking for opinions on if you think my proposed mounting location is going to cause any issues. I want to make it as close to the back and side as possible but I need to leave enough room to operate it.
I was planning on mounting on the drivers side but being that it would block the hydraulic valve I moved to the passenger side.
I would mount right up against the bed side but then the upright would hit the troop seats. Where it is here in the picture there is some clearance but I don't know that it is enough?
The bed support bar is 15 inches from the end of the bed and I have it positioned so that the front bolts would go through it for extra rigidity.and I can not move it to far back or I would not be able to close the tailgate when the lift is in its static position.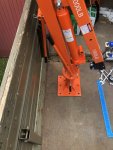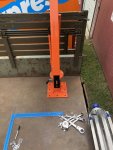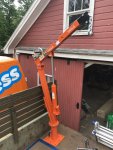 If you see anything that you would change about the location please let me know and why. I need to go to the hardware to get the bolts to attach to the bed since they were not included.
Any suggestions/ help is appreciated I definitely don't want to turn my bed in to Swiss Cheese!