Have owned my A3 for a few years now, and another for about two. Changed the fuel filter twice due to crap in the tank plugging it up, and bogging the engine. This time, what I figured was the remnants of algae, etc., after having flushed it and topped of with clean fuel, was even worse!
Petcock on the water drain stopped working awhile ago. But I don't drive it much, yet, so neglected to get it corrected. Decided yesterday to get to the bottom of it. Tried again to run a pick in the drain hole, no joy. Put a strong vaccum on it, hoping that would clear the blockage. Wound up just pulling the filter. And man, oh man, was I disappointed at the crap that came out of it!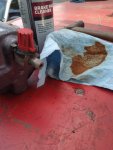 Here we see just what I was able to tap out of the filter itself. Figured there was no choice but to remove the fuel/water separator, and clean it out.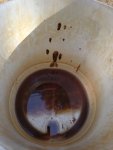 And here's what came out of it! Looks like sand and rust. No wonder the drain wasn't working! It was plugged with a solid mass of this crap!
Tried figuring out how to disassemble the apparatus for a proper cleaning. Found only one diagram online, which is direct from the TM: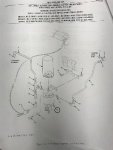 If there's a way to pull that canister off, I sure couldn't figure it out! Looks like it's crimped on. SO...just flushed it squeaky clean with a couple cans of brake cleaner. An important note here...now is a good time to inspect the o-rings on the fuel line attachment points. And BE SURE they're still there when you go to reinstall! Mine looked ok, so they were left alone.
No idea how that much garbage could have remained in the fuel system after flushing the tank. Granted, I didn't remove it to do a proper flush...but looking back now, probably should have! What I did do, though, was drain the tank with a transfer pump, and run the fuel through a filter about three times. Looked nice and clean, but now it's clear that quite a bit of garbage was settled into the bottom of the tank. Here's another clue: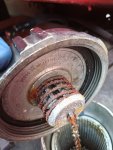 And while this can't account for the amount of rust coming out of the filter, it certainly isn't helping. Although I've taken this cap off twice, and cleaned it with a steel brush, it keeps corroding. This can only be from water vapor in the tank. Not knowing how the vent works, I don't know how to stop it...so it's proof of why the water separator needs regular drainage! Probably should coat the cap spring with something to prevent further rust. A coat of oil?
Comments welcome!