Well-known member
Steel Soldiers Supporter
Attention patriots and the not so politically correct, the 2022 SoCal Fall Rally is set for the weekend of October 6th - 9th.
Here is the map to camp
https://goo.gl/maps/4gL2iMToLmf1zsgR9
I'll be marking the campsite with cones so as to not disturb surrounding plant life.
Saltydeuce will be providing us with a few truck loads of firewood for the community fire pit so we have a warm gathering spot (as I write this trying to stay cool in this heatwave, warming up is the last thing one would want to do). Maybe we can get a water truck if this heatwave persists or a few water buffalo's.
There will be a convoy through the desert on Saturday around 11'ish which makes for plenty of photo ops. When we get back from that I'll be cooking up some tasty jellybeans on the grill if that don't pan out then plan B is some Carne Asada with homemade tortillas.
We are in search of a cheap rally car that can at least survive until Sunday. If you know of someone selling a cheap ($500 and under) reliable car or truck that runs good let us know. The last rally car made a lot of fun and excitement all the way to the very end. The smile on this gentleman's face will say it all.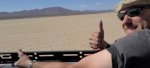 We want to promote being good ambassadors of the desert so we ask that you pick up any trash that you see as well as packing up what you bring out.
Please be courteous around camp and around others that want to enjoy the wide open desert that don't want to be dusted out. There is a 5mph speed limit in camp.
Hope to see you guys out there.