Figured I would start a thread for the mods I am doing to my truck. Doing basic stuff so far to fix a few things and get it aligned with my style.
Here is a photo of it being delivered plus my first time sitting in it.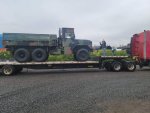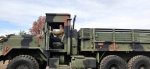 Finally home. Tested out the cargo cover.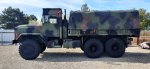 First thing I did was fix some minor air leaks and fix the battery box set up. It had been converted to a 2 battery set up with 2 G31 batteries. But they were basically floating around in the military battery tray with some loose 2x4s somewhat holding them in place. So I installed some trays and straps along with a cut off switch and battery maintainer.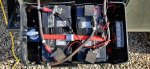 Also did a coolant flush and installed a block heater and coolant filter. Plus an oil pan heater. I put in some shore power plugs for the battery maintainer and the heaters.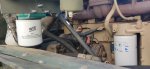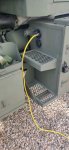 I installed a Knaack box in the back for more storage; troops seats still fold out just fine. Put on a grill cover. A 160amp alternator for future lighting plans.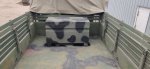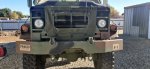 I Added some security with a locking gas cap, a keyed ignition switch, and some keyed door handles.
in the interior I put some waterproof seat covers, a sort of center console with USB charging. And a couple rifle mounts.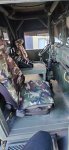 Got my tools all loaded and getting some recovery gear sorted now. Touched up a few spots of surface rust. Overall been a really fun project so far. Some boost and exhaust gauges are next, with LEDs after that.