Well-known member
Steel Soldiers Supporter
Picked up a M931A2 from Ft Drum, with 402 indicated miles, but listed as a non-runner. I had previewed the truck, but really hadn't planned on bidding so my notes were less than stellar, but it was now mine so off we went. DH wasn't busy today so we took his M819 to Drum to pick up what was supposed to be an easy flat tow. Problem was there was a fitting missing at the CTIS controle box. This was preventing the truck from being aired up from the tow vehicle, problem (1). So we scrounged around and finally just tried to loop the lines together, but that sure didn't work, because now we had air coming from the front right tire air fill area (???), so now we had to cage the brakes and go with just the service brakes. Nice thing was the brake cans were brand new and so were the caging bolts, so no problem. The left rear was a little troublesome, and I was getting frustrated, so after fussing with it for 10 minutes, Eric decided that it needed his touch. He got it to grab right away, go figure!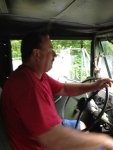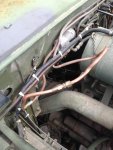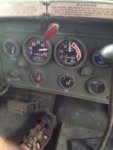 So once we got all hooked up, brakes caged, pulled forward and.....LOCKED ! All the brakes were locked.....ugh. A few minutes later with some well placed sledge hammer blows, we were rolling.
So far so good. We got to the first light on Ft Drum, and all of a sudden we smell brakes....BAD! Apparently when you leave the parking brake on the tow vehicle, that is bad? I think quite a bit of the smoke in that parking brake got out today.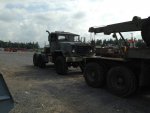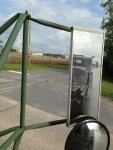 Overall I think the truck just really wanted to stay where she was, and left kicking and screaming. All indications point to a nice super low mileage running truck, it sounds like from the no start description it might only be really really dead batteries. Wish me luck!
Its at DH's house now, but we'll get it down here in the next few days.
Last edited by a moderator: