Looking to tow my MRZR and I want a military trailer for looks/parades.
I can't seem to find a trailer that fits that is HMMWV-towable. It seems it will not fit in the M1101/1102 series trailers.
MRZR dimensions: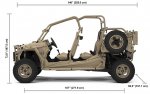 I have a civilian trailer and my HMMWV has a 2" hitch and that works fine, but I'd really prefer a military trailer even if I have to modify the trailer to work.