I have been researching the '715 for two years now. So I have a good feel for what could be improved ; this is the wish list I compiled from M715 owners:
The Tornado engine is interesting....but a diesel would be the cat's meow,

CAT 3116

The D60 front is obsolete and has D44-like knuckles so that is a weakness.

MERITOR RF_611

Because of the low gearing, bigger tires would be great, but there is the issue of firewall clearance etc.

MICHELIN 53" radials

The '70 rearend is obsolete. A popular mod is to swap to CUCV pickup axles for the D60/14BFF.

MERITOR RS_611

The manual gearbox is OK.....

ALLISON 7 spd auto

The wheels are wierd.

20" HUTCHINSON aluminum

The brakes could be bigger. LMTV drums/air brakes
So, anyway, attached is a pic of the "new" M715, (my 6th MV) , an eary '67 winch truck, with the donor chassis in the background that cure many of the ills. No guts no glory...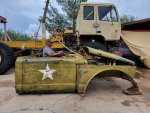 Last edited: