I don't recommend many things, but this one hit home so I'll share...
A couple months back I picked up one of these little coolers for drinks and snacks in the cab. I looked at reviews and settled on the VEVOR branded cooler based on Amazon reviews (I suspect that they are all mostly the same, though). The design and compressor seem to be fairly common and span several brands (with the same compressor used in multiple sizes). The 10 and 16 QT size use the same controller. The larger models use a different controller (that appears to lack the Bluetooth feature). All appear to use the same compressor.
Keeping in mind my goal was NOT a fridge/freezer for the hab. I just wanted a small, light weight, "easy to toss into the cab" cooler that could carry a 12 pack and some snacks for road trips and day trips to the beach.
The cooler came in a well packed box, Styrofoam encased top and bottom, 110v and 12/24v plugs inside. It is NOT self powered (ie: no battery onboard).
Time to cool (empty) to 32F is about 6-8 minutes at 80 ambient (way faster than they claim it takes). It actually cools even faster if the contents are already cold. Temp seems to flux about +/- 4 degrees depending on ambient and compressor cycles.
While the compartment looks tiny, it does in fact hold a 12 pack (8 cans on their side, 4 standing up) with room for a couple sandwiches and snacks). Or it will also fit 8 cans with two bottles of Gatorade and some snacks.
It has three battery protection settings that will stop it from draining the vehicle battery, and Eco/High cooling modes.
I load it with drinks, set it to 45F, ECO mode, protection to medium (the default with a 10.1v cut out). It runs all day at the beach (high 90's ambient) in the cab without protection mode shutting down nor pulling the battery below the start threshold (opening
frequently
for refreshing adult beverages) . *larger models may vary as they would work the compressor a bit harder I suspect. I have run it 32F with ice cream bars (German Shepherd likes a cold snack at the beach) with no issues (but I bump it up to 45F after the goodie is consumed).
I'd not want the bigger version. IMO, it's just the right size and weight for tossing up into the cab while fully loaded. It doesn't encroach on the German Shepherd's space. And being so small, it requires hardly any juice to maintain itself.
I did note that on the High setting, when dialed down below 32F (it can reach -4F), and constantly running in a hot cab that the cigarette adaptor got a bit warm to the touch, but that's to be expected (it has internal fuse protection). The battery projection does eventually kick in under those circumstances But I didn't buy it to make ice...
A few users reported shipping damage, so always check for cracks, etc. I always run electronics for 24 hrs right out of the box (especially China stuff). It they are going to fail, it's often within that window.
I got it on sale ($10 off) with a $35 coupon.
Total with tax and shipped was $83 !
I've saved that much not purchasing ice in a couple months of day trips to the beach. I wish I'd have grabbed a second one at that price.
Really pleased with the cooler and it far exceeded my expectations !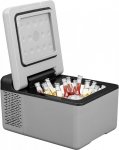 https://www.amazon.com/gp/product/B09Y235LR5/ref=ox_sc_saved_title_9?smid=ATVPDKIKX0DER&th=1
I also picked up the insulated cover (I wanted the extra insulation as well as the carrying handle). It's extremely well made (I was expecting China junk). Makes tossing it into the cab that much easier It was on sale for $33 after tax.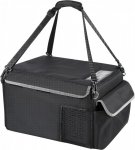 I'm going to add a 100w solar panel and controller to the mix to keep the truck battery topped off while parked. I've been meaning to do that anyway. I already have similar set up on the trailer, but I don't drag that with me unless I'm doing extended overnights. The cooler's power brick puts out
Last edited: