Active member
Steel Soldiers Supporter
Any dozer / loader owners out there?
Picked up an 1150 awhile back that was setup as a convertible. (once armored, no longer the case)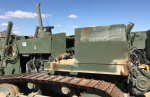 Have since found a new enclosed cab / ROPS and am working on getting it running now. The machine was missing all of it's front drive accessories off the motor (fan, AC compressor, alternator - all gone) and that's what I'm working on replacing now.
Was wondering if someone with one of these machines could let me know what AC compressor they have, and the pulley diameter? Unfortunately this application doesn't use the civy compressor, and the military TM's are MIA. If anyone is able to find those, I'd be very grateful!
Here is the 4 bolt pad mount for the compressor: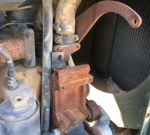 The alternator uses a short hinge, J180 mount so that should be easy enough to track down. Thinking a delco 22si. Fan, mount, and pulleys have already been ordered.
Anybody out here with one of these machines? How do you like it? The drive system is very unique, and It's a great size tractor. Those were my main attractions. Any pics of you working one?