Well-known member
Steel Soldiers Supporter
Well this is going to make a few people (including myself) feel really silly......
I've been getting pretty deep into a CTIS diag on a friends truck and had the occasion to swap modules between my truck and his, and vice-versa. And I've been going over documentation and troubleshooting info and discovered something that's going to make a lot of you guys really happy and possibly regret one or more purchases.
First off - the Dana/Spicer CTIS controller used in the FMTV family does indeed contain multiple "programs". In fact the controller actually contains NINE different programs. These are accessed through all the various possible combinations of power, ground, and open circuit on pins M and Z of the CTIS controller connector (P110 on the schematic). The various FMTV schematics aren't always clear on this point - many of them show both of them having power, and some actually do show "MTV Only" on pin Z. From looking at my 2008 M1079 A1R compared to the 2001 M1088 A1 we can say that in these two examples the 4x4 truck has 24v fed to pin M and Z is not populated, and the 6x6 truck is the opposite - pin Z has 24v and M is non pinned.
The wiring on the truck determines which programming the controller runs when powered on. But there are actually 9 different programs - the FMTV's are only using 2 of them.
My apologies to Ronmar who suggested this may the case and I dismissed the possibility since the software makes NO mention of this nor does it allow access to any of the settings for other programs. You have to switch the wiring and reconnect the software.
The implications of this are:
A: Installing a controller from a 6x6 truck into a 4x4 truck will do exactly nothing on it's own.
B: Fooling the controller with an Amazon transducer isn't necessary - your controller already has higher pressure settings. Also this throws off the controllers atmospheric pressure reading.
Now since there are nine programs the two being used by our various trucks are +24v on M/open on Z or open on M/+24v on Z - there are 7 more programs that are just unused. What's on them? Well I haven't checked them all, but on my truck I did cut the power to pin M (so open circuit on both option pins), and the program it loaded is identical to the 6x6 default program.
So to get M1088 pressure settings on your LMTV or other truck with 55 psi highway mode, you can just cut the 1911 wire going to pin M at the controller connector. That's it. No other modifications required.
We verified that my 4x4 controller went to 81 psi highway on the M1088 harness, and also that the (green 2001 controller) went to 55 psi highway on my M1079 harness. So at least the A1+ trucks seem to conform to this.
*EDIT* - I have read in several threads that A0 trucks will work with A1+ controllers but the pressure settings and overspeeds are wrong. Likely a result of different programming selection via harness and different speed sensor settings since the A0 trucks are using the transmission speed sensors rather than the CAT ECM pulse per mile information. But with the right information it would be trivial to program a later CTIS module to work on the A0.
@Lostchain
and I have discussed setting up a full CTIS test bench so could easily program whatever into controllers if needed...... *EDIT*
Here's the default settings for the LMTV controller (except for my 90 mph highway overspeed setting):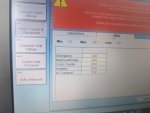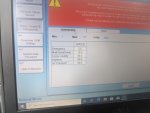 And here's the program for both option pins open circuit: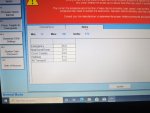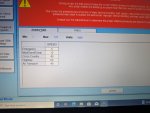 Second point - with this information it's relatively easy to install a toggle switch to switch pin M or Z from +24v to open circuit or to ground and get easy access to 3 of the 9 programs. And with the right software and adapter you can program the pressure settings in each of those programs and have 12 different pressure settings available. There is a CTIS OFF indicator lamp in the dash and provision on the truck for a switch used in the optional arctic kit for toggling power to the controller - this is easy to wire in and can be used to cycle power and thus switch programs while driving. I haven't yet tested if the controller will switch programs on the fly or not and I'm not sure that's a good idea to recommend anyway - if it works it may not work on all of them - there's quite a few generations of the controller - green and black and of the black units there are variations - older black units will not coms with J1939 for example while newer ones will........
Last edited: