I've thought about building an M37 for a while. I've always wanted a bobbed deuce, but at 8' wide they're not always the best for the trails or any tight spot on or off road for that matter. However, when you think about, the M37 is almost like a little brother to the M35-when the M35 is bobbed it almost looks like a giant M37. So I figured, why not build a sort of scaled down version of a bobbed deuce, using an M37? Here's what I'm thinking for running gear:
Pre-1998 Cummins 4BT
Dana 60 Front (4.10 gears)
Spicer 3053A Transmission
Divorced NP205 Transfer Case
Dana 70 Rear
Michelin XML 325/85/R16 Tires
With stock gearing I'd have a pretty respectable crawl ratio of 54:1 and fairly decent highway manners-in 5th gear at 65 MPH the 4BT would be turning at just a hair over 2000 RPM. 4.56 gears (I think some CUCVs had them?) would put me right in the sweet spot for peak power on an early 4BT at highway speeds. Not sure if I could do it with a divorced T-case, but a doubler set up would give me the same good highway manners and a 109:1 crawl ratio. The Dana 60/70 combo and Michelin XML rubber would give the truck a healthy 12,500 lb GVWR along with front and rear disc brakes to stop all of that weight.
Next, the body-I've always loved the look of the M37 front end-utilitarian, function over form, no nonsense: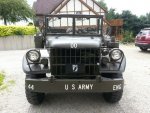 I never liked those round fenders though and always preferred the angular M35 fenders: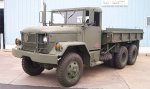 I figure there is probably a way to either adapt M35 fenders, or maybe a set off an Autocar truck. For the bed I was thinking I would mount an M101A2 trailer bed. The width should match up near perfect-the cab and bed are about 1" off. Not sure where the rear fender arch would end up, so that might take some frame modification, etc...but my guess is that the rear axle would need to be moved back rather than forward, which is always preferable and easier. Otherwise I would plan to leave the cab of the M37 just the way it was designed other than maybe some better seats. Other items on the wishlist would be a PTO winch, high output alternator, dual batteries, heavy duty inverter, on-board air, stacks, and a snorkel. This truck would see a lot of use working around my property, hunting, camping, and obviously, 4-wheeling, and would look pretty cool doing it. I've seen these types of builds approached a few different ways, including swapping the M37 onto a later model Dodge truck chassis, which I've also thought about. Just curious to hear from others who have done or seen something similar.