Well-known member
Steel Soldiers Supporter
All-
A FB friend sent me some found pics and was trying to figure out the Era.
They are definitely Marine Corps pics, and if I had to guess, I would say from Korea in the 50s.
Here's an old deuce, but for the life of me I cannot figure out which one, so I thought I'd throw it out.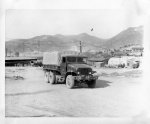 And some of the others.