I did some research on how to remove and reinstall Hutchinson Run Flats into HMMWV tires. I got a great deal on some HMMWV radials and rims. The rims had defective tires on them that I needed to remove. Most of the mounted tires were bald and 2 were blow-outs. I got them for the rims and run-flats. I got the rims off yesterday. It was quite a struggle but I got them separated from the tires.

After a nights rest I decided to remove the run-flats from the tires. I was told the easiest way was to use a jigsaw and cut the side wall off the old tire. I was able to do 5 run-flats in 15 minutes doing this method. It was a lot easier than tying the tire to a tree and yanking the run-flat out with the truck. (saw that on Youtube)

This afternoon I scrubbed the run-flat clean and stacked them for future use.

I read that you need to use a tube of run-flat lube per tire to install the run-flat properly. Not so easy to find the lube. I wonder how some of the members installed the run-flats in their HMMWV tires. Anyone use slime as a substitute?
Hands down, the safest and quickest way to deal with HMMWV wheels and runflats is an engine hoist.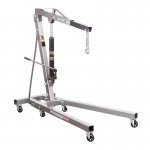 You can remove the nuts holding the rim together, place the entire assembly on the ground, place the "Y" legs of the engine hoist over tire and place a block inside the center hole of the rim that is small enough to fit through the back half of the rim. Rig the boom to that block and start jacking - presto you will pull the front half of the rim off. Flip it over and now use a longer block that fits between the studs of the back half of the wheel, and rig it to the boom and start jacking - presto the back half of the rim will come out. Next you can rig around the runflat insert and use the engine hoist to remove it.
Only catch is there can be quite a bit of stored energy when pulling things apart since the tire is like a giant spring. Don't have your face above what you are working on- or anywhere close for that matter. I also suggest you use rigging that will not come apart when it is unloaded - IE use shackles instead of hooks.
I am also one of the folks that tossed the runflats in the trash - and used PVC inserts.