Active member
Steel Soldiers Supporter
Hey guys,
Not sure if anyone here is familiar with Ultra4 racing, but this is an offroad race series that combines high speed desert or short course with rock crawling. The most famous race in the series is King Of the Hammers (KOH). I've been racing in Ultra4 since 2012. I started with a highly modified jeep, then moving to a rear engine IFS buggy. I recently listed my buggy for sale and am considering building a new rig based on a humvee. The goal would be to utilize as much of the humvee as possible to keep costs down and have decent availability of replacement parts. My current buggy is amazing, but it's single seat and very expensive to operate since so many of the parts are custom or just generally very high end.
Some of the VERY rough specs for my Humvee build are:
-Stock Humvee portals
-Stock 12k axle shafts (maybe)
-Stock Diffs with 3.08 gears and Detroit or Grizzly lockers (maybe)
-Stock 242HD T-case
-Custom HD drivershafts with 1350 joints
-Highly build 4l80e trans with RMVB
-Procharged LS3 V8
-Near stock suspension geometry with custom upper and lower arms using uni-balls
-Coil over shocks with 3.5" or 4" bypasses and air bumps
-Strock Alpha steering with HD custom tie-rods (hydro assist need TBD)
-Stock brakes
-Narrowed body (~20-24") and shortened WB (~12")
-40" tires
-Race weight <5500lbs (i'm hoping for close to 5k, but we'll see)
I currently own 4 humvees, one of which is an M1152 that I would use as a base for this build. I've been very impressed with humvee durability, but am concerned about whether the diffs and stock 12k axles can really take the abuse. Has anyone here broke a ring and pinion in their humvee? If so, what were the conditions? How about the 12k axles? I know plenty have broke the 10k or earlier stuff, but how well do the 12k's hold up.
Custom axles and diffs aren't out of the question of course, but I'd love to use what's there. I've never had an issue with these parts in either of my M1123 wheeling rigs I've had, but Ultra4 is a whole new level of abuse. I'm a little worried about the front diff since it runs on the coast side of the gear, but the reduced torque from the portals seems to really help everything survive.
Here's my IFS rig: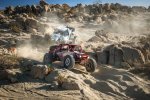 It's for sale for $125k if anyone is interested. 1100hp of procharged hemi goodness.