Scrolling through FB marketplace last Friday evening and I run across a Jeep listed as a 1952 Willys. In the description, seller says it's military, which it is. Because it's the "C" variant!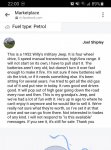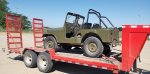 Since they weren't really aware of what they had, I messaged the seller and filled them in a little. Pleaded to not let it go to someone that will bastardize it because it looks to be in pretty decent condition and is still a good candidate for saving. I made it clear that I have enough on my plate and wasn't looking to buy anything.
Seller messaged me back to let me know they appreciated the info and grandpa was in the same mindset as me. He didn't want it to go to someone that wouldn't be interested in keeping it in a similar condition. He was shooting to get 4k so listed it for 5k. I'd responded with those were good numbers, and I'd give 3k in a heartbeat. Sent some recent pics of my other A1 so they could see what one looks like done up-ish. We left it at that.
Saturday afternoon, I get a message from the seller saying there's another guy that told him there was no way that was a '52, the tall fenders started in '53 (boy he don't sound like he knows much) and he'd offered them 3k also but since I'd offered first, they wanted to let me have the choice of buying it! Well, for 3k, I had to at least go look at it! It was about an hour from home, so me, wife and kid went to check it out. Spent a couple of hours down there talking with grandpa and his grandson about the Jeep, life and anything else that popped up. Pretty sure I made grandpa at ease and comfortable in knowing I'd be taking it with me, and bringing it back to looking like it did earlier in its life.
Went back Sunday morning to pick it up, and the grandson had taken it out for one last drive. When he pulled up, he looked at me and said it was a lot harder than he expected to let go of it. I wondered if he really thought about asking me to not to take it at that point. A little more reassurance came out in conversation later, and we were soon back on the road for home.
So, now, I'm the owner of another A1!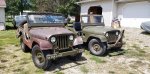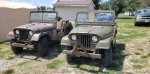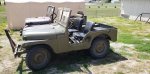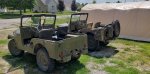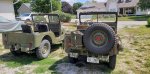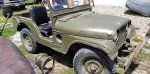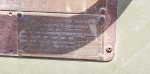 It has some minor rust in the floorboards, passenger side worse that drivers. Fuel tank well has a small hole as well. Front fenders, crunched as usual and the rear crossmember has a nice curve to it. Otherwise, not in terribly bad shape overall. Already have the list of parts started, man this is an expensive hobby. I thought my other cars were bad...