Hi everyone! Newbie here and I have a question about an M274 I just acquired.
It doesn't have a data plate but looks to have the original plates on the bed, confirming that it is an A2.
The number inscribed under where the data plate would be is BMY 932. I plan to repaint it and as I scratched more paint where the vehicle numbers should be, I uncovered a USMC stencil with numbers 315291. I am unsure if they are the original numbers but they look to be painted over twice with the same numbers, just different stencils.
Attached is a pic of the engine plate. Any info or resource you could point me to would be great. Plan is to actually paint and stencil her for the Army unit my group portrays, but I would love to use the original data plate info and possibly put a date on this beauty!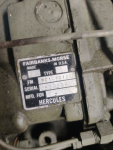 Last edited: