After owning my ambulance for 5yrs and using the original benches as a makeshift rv, I finally kicked my butt into high gear and started tackling a proper camper conversion project. About a month ago I finally started stripping the back box to get it ready for renovation. I removed the benches, heater and ductwork, the interior lighting (except for the blue 'black out' light in the ceiling), and the electric panel mounted over the ds rear wheel well.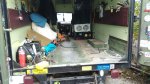 ]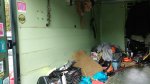 Preliminary test fit for the matching chests of drawers that will become the dinette benches/bed base.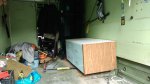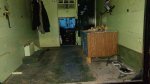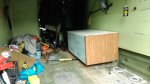 Then came the time to empty it completely. Whoops, forgot about the gunlocker. That's gotta come out too.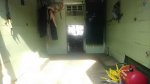 Now that we've got that taken down...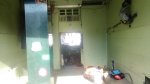 ... we're left with a big hole in the ceiling that some hillbilly cut out when installing the gunlocker for the police department. That's ok, the ceiling will be covered with luan, and the hole might become the location for a roof vent.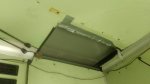 After cleaning it out, we placed the chests of drawers in position above the wheel wells, built a base for them, and started building the closet and storage bench on the drivers side.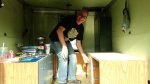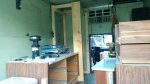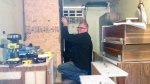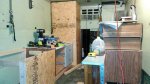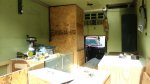 Part way through the project my friend decided to come out of the closet. I don't judge him, I just want him to be happy.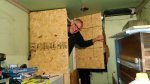 Next I made what will eventually become storage for the house batteries, but will be used as general storage for the time being. It's large enough to fit as many as 6 large deep cell batteries. Overkill? Possibly, but better safe than sorry for when I get to travel and explore the back country.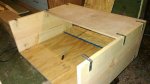 The battery box will also double as the platform for my gunlocker. When the hillbilly cut the hole in the ceiling he also cut the top of the locker off, leaving it wide open. Because of this I have no choice but to mount it against the ceiling, and the battery box was the perfect solution.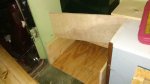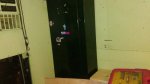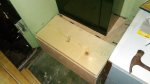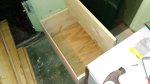 After the battery box was mostly done and the gunlocker was securely mounted to the wall (it is sitting on the box, but not fully supported just by the box) I spent some more time on the bench on the drivers side rear. I had originally planned on making it a place to store a large cooler out of the way, but I'm really leaning towards making the whole thing a built-in permanent ice box with a stainless steel insert and a drain through the floor...