Howdy all.
I'm new to the fascinating world of electrical fires on HMMWVs so please hold the chuckling to a minimum.
I was running jumper cables to my M1123 6.5 non turbo batteries trying to get it started. After the WAIT light went out, I flipped the switch to START and nothing but a buzzing from behind the dash and smoke from under the hood. I immediately turned off the switch. Maybe it was on for 3-5 seconds when the smell of burning plastic first hit me. I traced the offending line across the top of the engine block. One end was grounded to a steal bracket and the other end disappeared under what looks like the glow plug control sender. The metal tag on the line reads 54C. I am unable to find reference to this 54C in an online TM I found.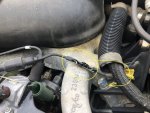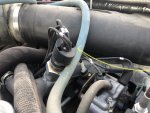 I guess my questions are this
1) how likely is it that I fried my start box
2) any ideas as to what this fuse is (i'm assuming it's an inline fuse)
3) Is this something I can or want to bypass?
Keep in mind that I do not want to fry like a bacon wrapped hotdog so base any answers off of that desire..... thank you.
Last edited: