Need your help again!
Here is a picture of the truck I bought at a recent auction (M1123). There are four bolts (upper left corner of pic) on the transmission support bracket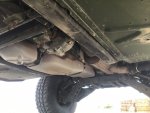 that are not attached to anything. Is there a cross brace missing or did underbody armor go there? What is supposed to go there?