I have always wanted the Chenowth Desert Patrol Vehicle since I was younger and remember seeing the SEALs zipping around 29 Palms with them in the late 90's when they came out to play with us Marines. Finding a legit DPV has proven to be extremely difficult to find. It seems like what comes up for sale are either in the occasional museum, or it's something that's been cobbled together and is far from being a correct vehicle. So several months ago, I set out to build a correct Desert Patrol Vehicle using a Chenowth donor chassis. The Chenowth 4LWD chassis is can be found and there were vehicles built off of this chassis, but the one we typically see are the type built off of the Chenowth Magnum DR2 which are pretty rare and when you do find them - they're $$$$.
So I mapped out my plans and researched everything the best that I could before buying a vehicle based off of the 4LWD chassis. No sooner did I pay for it and start shipping it from the west coast when I speaking to a work contact that I have about my plans and how I was going to go about making a finished vehicle. As it turned out, my contact had not just a SEAL Desert Patrol Vehicle behind his shop, but also had a Chenowth SEAL "Squad" vehicle as well. They'd been left out to the elements for at least 5 years and it was his intention to drag them to the dump as scrap metal. While the vehicles have seen better days, they're complete and he said that I could have them if I came and dragged them away - so drag them away I did. As a result, I now have 3 buggies at the house, so if you know anyone who wants a 4LWD, let me know lol.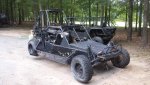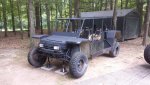 The 6 seat "Squad" Vehicle is in considerably better shape than the 3-seat DPV with very little chassis rust. Seats, wheels, tires, baskets, and other smaller parts will clearly need to be replaced, but overall it isn't bad and I can turn the engine by hand. If I was smart, I would have started with that vehicle, but nobody ever said that I was that smart, so I started with the 3-seat vehicle instead. In addition to the above parts, I'll have to replace the floor of the DPV as it has considerable rust under the seats and gas tank - the rest, really is salvageable. The engine was stuck, but patience and Marvel's eventually cleared it up and I can now turn it. I've been slowly stripping down the DPV and should have it to the point of blasting/cutting/welding very soon.
I've been trying to research the history of these vehicles. It seems like whatever information you find on the DPV is incomplete, incorrect and has been regurgitated from the same source over....and over.....and over again. There is zero information out there on the 6 seat vehicle. If you google "Desert Patrol Vehicle", it'll come up with a couple of pictures of the 6-seater running with the 3-seaters, but nobody ever paid attention to it. So using my NSW contacts, as well as reaching out to Lynn Chenowth (former owner) and Ryan Thomas (GM at Chenowth), I've been able to dig up some information on what I have.
There were a total of 120 of the 3-seat Desert Patrol Vehicles built and they were sold for $56k a piece. Most went to the west coast SEALs, but some went to the Marines, others to CAG and even a few to the British SAS. They were used from 1989 up until the late 90's. There were 12 of the 6-seat "Squad" vehicles built and they all went to the west coast SEALs. These were used from the late 90's up until the invasion of Afghanistan and Iraq before the GMV's started being used due to being more appropriate for the terrain and the cargo capacity.
The vehicles are both made with chromoly tubing (DR2's and 4LWD's are made with steel DOM tubing).
The engines on both are VW Type 4 engines with Porsche upright cooling conversions. They were 2.0's but worked on by FAT Performance to 2650cc.
The transaxles are VW Vanagon setups with a locking diffrential. The diffrential locks via push/pull cable versus the factory vacuum setup.
They have CNC Disk brakes all around with CNC pedals and turning brakes.
They both have SACO steering boxes and most all other miscellaneous parts came from SACO.
Once I get the DPV stripped down, I plan on blasting it and replacing whatever needs to be replaced. Fortunately, most of the parts are still COTS parts, but they aren't exactly cheap - there's no real repurposed VW parts on them.
It's been a fun project so far that is going to take some time - my son in the photo above still seems to think this will be a 2 week project, but he's learning it's going to take a while.
I look forward to getting them done and having a unique piece of American Military history on my hands - some guys collect deuces, jeeps, etc - I guess I'll have a couple of SEAL vehicles!
Last edited: