Administrator
Staff member
Administrator
I want to thank Tim at Consolidated Press. He's the newest site sponsor.

Tim has created a batch of decals for us that will be available soon. And even cooler, he's made some custom decals just for our MVOTM/MVOTY contest. There will be only ONE of these decals each month. But you can certainly rock one of the site decals as well if you like.
Here's a example of the MVOTM/MVOTY decals.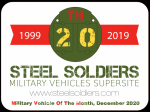 The normal ones will be the same only without the MVOTM at the bottom.
I'll be updating soon once they're ready to ship!