I'm 90% through doing a conversion to turn an M1101 into a camp support trailer--not to sleep in, but to carry gear, provide electricity for charging gadgets, and to provide water (hot and cold) for tent or rustic cabin camping.
I put the chronicle into a Wordpress blog site to make it easier to read. The blog puts thing in reverse chronological order. The links below will be more in the order of my build out.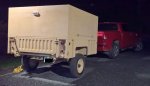 Background
Mission
Sketchup Design
Weight and Balance
Trailer Prep
Plumbing
Electrical
Propane
Enclosure Fabrication
Epoxy and Paint
First Use and Testing
Things got a bit rushed at the end. I will have some more photos up of the finished trailer. Thanks to everybody whose posts inspired or provided guidance.