Super Jr. Moderator
Super Moderator
Steel Soldiers Supporter
Found a Willys MB on craigslist, wasn't going to look at it, but did. I've been telling myself for years no more projects, and no more MV's. But.... if I sell a project, I can buy another one, right? So sold one of two 46 CJ2A's I had, and bought this instead! This all happened last year, so going to take a couple of posts to catch up.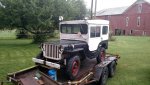 Have some paperwork from when it was surplused, family that sold it was original owners. I'll have to scan and upload it, some interesting reading.
Serial/frame number is 426468. Motor is MB569620. Cast date of 3-5 Hood number is 20693117. Tom Woldboldt or Jim Gilmore(sorry, bad with names and faces) looked up hood number and got a build date of March 16, 1945. Hood and motor number are on paperwork. They used motor number to title it, need to see about changing it to frame number.
Missing windshield, glovebox lid is gone, and horn bell is cut off. Rust holes on sides and some in floorboards. Motor was locked up, but I was able to break it free. Pulled head, cylinders have some rust color, but not bad. Need to clean up and adjust valves.
Still has the factory tires and rims, odometer shows 8700 miles. Jeep had been parked in garage since 91. Current plans are to swap M38 top and heater over to my 2A, use 2A windshield on MB. Get it running, go through brakes and bearings, and drive it. Not going to restore it till my 2A is done, and that might be a while!