Well-known member
Steel Soldiers Supporter
So I've been casually looking for an equipment type trailer to use behind my deuce to haul vehicles/tractors/firewood/miscellaneous whatever. It would be nice if it had ramps, but I could add brackets to use ramps I already have.
I'm not up on all the different military trailers that are out there, and which ones would be suitable and available/reasonably priced.
Which leads to this post.
I searched and found these, but what other options am I missing?
Some I've come across that seem like good candidates...
M1061
XM1073
From what I can tell, looks like a heavier duty version of the M1061.
M989
Looks to be like the above two, but with drop sides, which would be nice.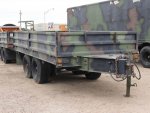 M322
This one is nice because it has ramps. But I'm guessing it would be too much trailer for a deuce, especially with any kind of load on it.
Or possibly a civilian equipment trailer kind of like this.
Downsides to the M1061, XM1073, and M989 are the bed length, odd tire size, and no ramps.
They appear to have 12'-14' beds, which is short for hauling a vehicle or tractor. I'd like something closer to 20'.
And it might be tough to find spare tires and rims for them.
The civilian trailer would solve the above issues, but it would be nice to use a military trailer behind a military truck.
Are there any big differences among the M1061, XM1073, and M989 that make one better or worse than the other?
Are there any other similar military trailers I've missed?
What similar trailers have y'all used or seen used, or think would work behind a deuce?
Thanks!