Well-known member
Steel Soldiers Supporter
Thanks to Gunzy for finding this for me, I won my first auction from Gov Planet on Wednesday, April 1st, 2020 for an NOS 3-piece canvas cargo cover kit for my deuce! I obviously have a working vinyl cargo cover setup, but I didn't own a canvas one.
https://www.govplanet.com/jsp/s/item/3210953?h=6-22
My review of Gov Planet's service:
I knew about 2 of the 3 "hidden" fees, +10% buyer's premium + Tax (7.25% in the case of Farr West, UT), but then there was the additional credit card fee that took me by surprise. I paid the credit card fee just to make the process smoother and so I could pick it up sooner. So it made the winning bid from $315 -> $382.59. An additional 21.45% to the winning bid. What a joke.
I am not impressed with Gov Planet's service and lack of internal communication, but at least their photos were accurate and of the actual item. The facility, located at 883 N. 2000 W., Farr West, UT, only allows "load outs" from 8am - 2pm Tues/Weds/Thurs. Which means I had to take time off from work for my pick up. I scheduled my pick up via text message (as I was directed to do via the voicemail) with Misty, the location's GP representative, for the following Tuesday, April 7th, 2020.
When I arrived, the forklift operator claimed I didn't have an appointment which I refuted. At least the forklift operator didn't put up a fight about it. She wanted me to text her my item release because she wouldn't touch my paper print out due to concerns for Coronavirus that comes from China (even though at the time Utah only had LESS than 1900 confirmed cases of COVID-19, in a population of over 3.2 million, in a state of nearly 85,000 square miles, granted, not spread evenly), so I took a photo of the Item Release paper and texted the photo. The forklift operator then directed me to move my vehicle outside the gate and she'd bring my crate to me.
At least I was able to unpack the crate and leave it in with the other discarded pallets by their entrance.
Came with:
10 steel bow corners, painted 383 CARC green
10 fiberglass uprights, 383 green
5 wooden bows, painted 383 CARC green
2 canvas end curtains, U.S. MS-51324-18, MFR-56101
1 canvas top/main cover, US MS 51323-28, MFR-56101
10 strap assembly, 10883175 (these screw to the bows)
50 screws, MS35206-300
Original listing photos: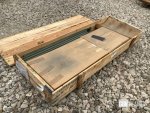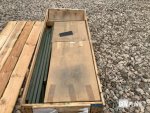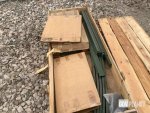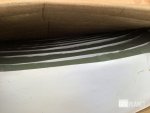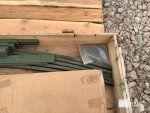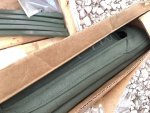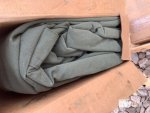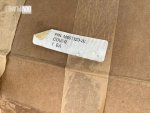 Last edited: