Has anyone put the dump components from a M51 Dump truck onto a M818 Tractor truck?
I have Jack Tomlin's old beat up M51 and wish to put the dump components on a new M818. It looks like the rear frame length is the same so It should be straightforward to remove the 5th wheel components and put the dump components on it. Both have winches and pto's that bolt to the transmission.
Jack's old M51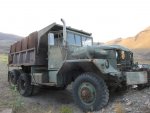 ----------------------
My old M818, my new M818 one looks the same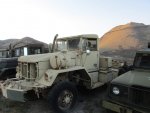 Does anyone know what issues I will have with the conversion?
I probably have to swap pto's from forward only to forward/rear version.
Holes might need to be drilled in frame for dump bed pivot?
Maybe there is a thread here with this conversion?
Thanks everyone!