This morning, James picked up & delivered a workshop shelter for me. The big issue was where it has to go in a tight space between two cedar trees in a major lovebugs storm. The huge lovebug storm was the worst I have ever seen due to the diesel engines running (his truck & my Deuce).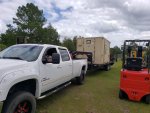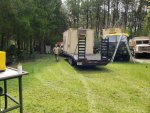 I will not be able to thank him enough for doing this, but will just let you guys know that he spends a lot of his time helping other folks who are a part of this forum. You can't ask for a better person or member of this forum, need
​I say more?

Last picture is unit in place & leveled.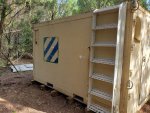 Last edited: