Active member
Steel Soldiers Supporter
I had slowly walked away from the MV hobby a year or so ago. Then a buddy sucked me back in by selling me his 1970 Kaiser Jeep Deuce.
It has taken a while to find, purchase and then have mounted to my Deuce my new wheels and tires.
The tires were Michelin 11R22.5 XDY2's and the wheels came from Wheels Now -
http://www.wheelsnowinc.com/catalog/viewItem.php?id=219
Still need the spare and two more for my MKT, but the wheels are in now, just have to wait for the supplier to come up with new virgin Michelin cases in the correct size for these last three retreads to be made.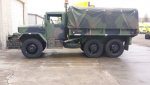 It's the only picture I've got right now. The truck is in Denver and I'm stuck in Texas for the time being. So I have a friend of mine doing the work and another friend allowing me to store it near his deuce. Thanks Randy and Johnathan.
Three more things to do, install a muffler, replace the radiator with the new one I got with the truck and finally get the winch hooked to the PTO with the parts I got with the truck.
I also have a remote control spotlight to install but that is later.
And I will be installing sound deadening material, covered with rubber floor mats in the cab, and along with the muffler I hope to make the ride quieter.
Funny thing is, I'm happy with this truck. My buddy Randy drove it and said it steered with one hand, due to the upgraded wheels and tires.