Active member
Steel Soldiers Supporter
Hey guys,
I was under my truck to take the starter out after breaking a bolt. I got new bolts and a bracket, but it seems that the threaded stud on the engine block for attaching the bracket is broken. Can this stud be replaced?
On the flexplate inspection cover are 2 threaded holes, what are these for?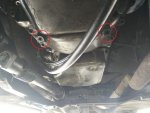 I got some more questions about sensors. I want to add at least a temperature gauge and I've read about a blocked of hole on the passenger/back side of the engine for a sensor. I've also seen a pic of someone adding a sensor here: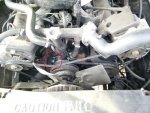 Are there any more holes to be used? What are the pros and cons of using these holes? And what thread will fit in them? I see 1/2 inch 14 thread and 3/8 inch 18 thread sensors on Rock Auto.
They also list senders, sensors and switches. From what I can tell senders are for gauges and sensors/switches are for the idiot light, is this correct?
I'm thinking of making a list of possible and existing sensor locations, with their thread size/count and what they can be used for (temp, oil or whatever) and some product IDs. Might be useful for other people and could even be added to the CUCV wiki.
Last edited: