Active member
Steel Soldiers Supporter
After my little run to the beach last weekend my old bone on bone knee was killing me so I decided to do "something" even if not the most ideal solution.
The factory hand throttle does not have enough travel to be used as a cruise control so I dug around and found a Vernier control from a MEP-002A, these are really cool as you can fine "tune" by twisting the knob "righty tighty, lefty loosy" and the button release in the center gives a fast "dump" of the throttle.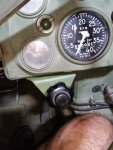 I reversed the bracket and drilled it for the 3/4" control cable, I only had to drill one 1/4" hole as I used the existing hole on the what now is the passenger side.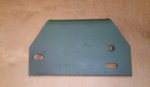 In the past I have had good luck scoring the outer sheath of cables and then "snapping" it, but this cable has a linear not a spiral outer sheath so the inner cable must be removed.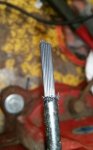 Don't worry if the inner cable looks like this after cutting, just carefully wind the wires back in place by hand, I would only advise using a cutoff wheel not diagonal cutters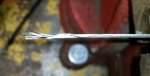 You will also need to cut the end off of the original cable and pick up a cable stop.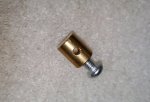 Warning!! when you push in the button and remove the inner cable do it over a towel, carefully remove the detent ball which is now able to fall out and don't lose the spring off of the "button" and shaft, otherwise you will spend a large amount of time wishing you had swept the shop floor to begin with...
Getting the inner cable reinstalled in the outer sheath takes some patients as it is a small hole and deep in the outer barrel, then install the button and shaft with spring, line up the detent groove in the button shaft with the hole for the detent ball. install the ball and push the inner cable in.
The cable is so short that anchoring the outer sheath for linear movement is not needed, only lateral movement needs to be addressed so I simply put the outer sheath through the mounting bolt hole for the factory cable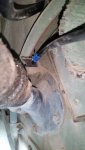 Put the original cable end and a cable stop, put some grease on it and voila, the cable is not touching the steering wheel lock tube, it just looks that way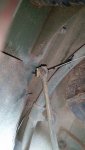 This looks like it is closer to my knee than it actually is but I am rather short so your mileage may vary (You will be cutting the cable to length anyway so place the bracket where you are comfortable with it) , also notice I did replace the "civ" tach with a military unit while I had the dash out, much better now.
Last edited: