Well-known member
Steel Soldiers Supporter
Guys, stay safe out there with your rigs, insurance and preventative maintenance. (I highly suggest a dash camera in all your vehicles too).
Today, Monday October 15, 2018 the driver of the Chrysler 300 died in a collision with an M44, M809, or M39 series 6x6 (hard to tell which exactly from the low resolution video on my phone) on SR193 in Clearfield, UT, USA.
It was unknown at this time who was at fault.
Maybe one of these articles will be updated with more details later.
https://fox13now.com/2018/10/15/one-killed-in-crash-on-highway-193-in-clearfield/
https://www.ksl.com/article/46406720/1-killed-in-crash-on-state-route-193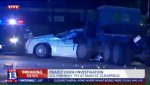 Last edited: