Well-known member
Steel Soldiers Supporter
There is a number stamped on the frame of my M35A2. It is located on the front passenger side frame rail above the front spring hanger, and it appears to be an upside-down "2061." What is it?
There are no visible numbers on the driver's side under the left front fender. If there are numbers on the driver's side frame, they are hidden by multiple layers of paint that I have not scraped off yet.
I believe my truck (a M35A2 with winch) is an old gasser that was repowered with a multifuel. My truck is titled in Texas as a 1972 model based on the paperwork from GL. The Serial Number is M41231 and the truck was manufactured by REO Motors, Inc, in Lansing, Michigan. Based on the data from CARNAC that NDT recently posted, I believe Serial Number M41231 indicates a production date between 1954 and 1957.
There is the stamp on the passenger side frame rail: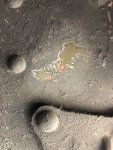 Here is a picture of my data plate: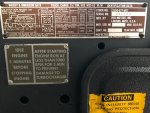 This is the only other data tag that is specific to my truck: