I picked up a PVAB for $25 awhile back. I figured I could make a potato launcher or something out of it if it was missing bits, but after cleaning up the valves and installing a new set of batteries I aired it up everything works. Best I can tell, it is complete..
The only thing missing was the manual, so I've been winging it with the setup using the only YouTube video I could find for pointers, but I'm sure that there are things I need to know about deploying it.
I've searched the web with no luck. I figured it was a long shot, but it wouldn't hurt to ask if anyone here might have a any guidance to where I might find a TM, etc.
I've no idea what I'll use it for, but in the current environment it might come in handy for something, someday...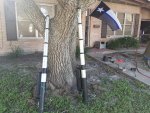 sample pic of the bits: