2 Star Admiral
Steel Soldiers Supporter
Howdy,
2 locations

Vehicles, Wheeled items, Generators etc.
Lot off-base, near Letterkenny Army Depot
4363 Sunset Pike, Chambersburg, PA 17202



palleted items etc.
GovPlanet Warehouse
2801 WCN Drive, Chambersburg, PA 17202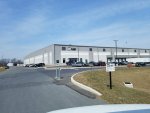 You have to stop in the driver check-in door first.


Warehouse need's a appointment.
Don't forget your release paperwork.

Field Lot pickup is any time it is open.

Last edited: