Well-known member
Steel Soldiers Supporter
Who knows how old the picture is
What the heck is in the back of whatever that truck is?
This is a news picture from 12052017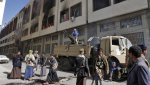 Former Yemeni President Saleh killed, Houthis reportedly take over Sanaa is from https://www.rt.com/in-vision/
A Huthi rebel fighter are seen in front of the residence of Yemen's former President Ali Abdullah Saleh in Sanaa on December 4, 2017. © Mohammed Huwais
...and who are those 11 guys anyhow in front of his house anyway?
How the heck would I know.
Someplace near 15°22'19.04 N 44°11'34.84E
Last edited: