12B20
Steel Soldiers Supporter
Please help. I am having trouble posting to the classifieds. I want to make a Parts and Misc for Sale ad.
Yes, I am a premium member. I have successfully posted before without incident.
I can start the ad, but if I click on the
[Preview Post]
or
[Submit New Thread]
buttons, I get this: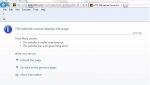 Thanks,
Jeff
...