I'm
finally
creating a topic here to feature my military vehicles and other military-related stuff. I only have one right now (1995 AM General M35A3), but I have no doubt I'll be getting more. As long as this forum exists, I will be posting stuff here featuring my stuff. Not only am I into vehicles, but I'm also interested in air raid sirens and other Cold War-era Civil Defense-related stuff.
This is my only truck, a 1995 AM General M35A3, number 246 out of around 5,800 built in four different flavors (M35A3, M35A3C, M36A3, M109A4). It's the first Army truck I've ever owned, and I'm its third private owner. All its registration and unit numbers are painted over, but they can still be read. It came from Fort Lewis, WA, and its registration number was PS-220. I have no idea where else it went in its service, other than it was sold at auction at Fort Drum, NY in August 2010 to its first owner. In November 2010, it was sold to its second owner, who intended to have it sit until it qualified for historical plates. By the time it qualified for historical plates, the second owner decided he was too old to be crawling under such a big truck and then sold it to me. So after mostly sitting for 10 years, I've put it back on the road, driving it about once a week and tackling some projects with the truck. It is show-worthy as-is, though. The only thing that would make the truck better would be if I could take my whole family for a ride in it. But that'll have to wait until I get a second truck!
Some pictures...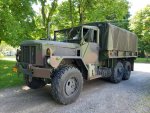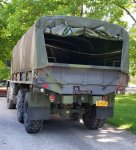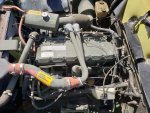 Some videos...
And sounds to relax to!
I'm currently trying to convince my wife to sell our Chrysler 200 and buy a HMMWV in its place. Besides a HMMWV, these vehicles are on our wishlist:
Late 1980s M35A2 with split brakes
M54A2 multifuel 5-ton (wouldn't complain about a wrecker though)
DUKW
HEMTT
Some kind of FMTV
Leopard 1A5 MBT (a stretch goal!)
Yeah, I'll need another job or three, or win the lottery