There are many threads out there about fixing your head gasket, and I encourage all to search and find them. Lots of great info out there.
That said, I just did mine, and I collected a bunch of stuff I found and put it in one place (this thread) as well as adding a list of what I bought to do the repair.
(I didn't bother to credit where I got stuff. This is a mix of mine and other's info. Use at your own risk)
So, without further ado...
TM Numbers and sections:
Head Gasket Replacement:
TM 9-2320-209-34-2-1 Pages 72-135
Cylinder Head inspection/Repair
TM 9-2185-210-34-2-2 Page 227
From reading other posts:
"Check to be sure you have a TD marked block before you waste your time on an older engine. Have the injectors checked while they are out. Replace the freeze plugs in front and rear of the heads with. Have heads machined even if they look perfect, just a few thousandths. Check the valve seats by filling the ports with some solvent. you might as well do i right the first time and never have to do it again."
Tools:
1/2 drive rachet
9/16 socket
11/16 socket
7/8 socket
11/16 wrench with offset closed end
3/4 ratchet for head bolts
Small and large regular screwdriver
Extensions short and long for 1/2 drive
Containers for bolt sorting
Torque Wrench
Custom Head Bolt tool
Chemicals:
Copper spray gasket
penetrating oil
header paint
never-seize
Engine paint
distilled water
Anti-freeze
Parts:
Head Gasket Set.
Memphis Equipment $266
Part Number 5702678
includes all gaskets needed for headgasket repair
Coolant Hose:
Lower Radiator hose
Memphis Equipment $36
Part Number 10872023
Correct shape formed lower hose
All of the other hoses were common sizes available as straight hose. The large hoses are 2" and the manifold hoses were 1-3/4" (possibly 1-5/8, I reused old). The heater hoses (if you have a heater) are 5/8". I used silicone hose from Amazon (McMaster was expensive)
Thermostat:
thermostat is NAPA part number 358-180
THermostat Gasket NAPA 4662 (hard to get, I was able to use old one)
McMaster parts:
3/8" Square Drive 7/8" box end wrench
55015A29
$23
This tool was mentioned as viable for cyl head tightening. Was supposedly a rare find on ebay for $25 or so. McMaster in stock for less. BUT, it's too long. However, it worked great as the donor wrench for custom tool. See below for details.
Hardware:
I replaced a great deal of the hardware I removed as it was getting rusty. Not required, but I'm a picky guy. Here's what I bought. Don't have the list of where it went...
92620A582 50pcs $9.83
Grade 8 Steel Cap Screw, 5/16"-18 Fully Threaded, 7/8" Long, Zinc-Plated
91257A592 25pcs $8.07
Grade 8 Steel Cap Screw, 5/16"-18 Thread, 2-1/4" Long, Zinc-Plated
91257A593 25pcs $8.62
Grade 8 Steel Cap Screw, 5/16"-18 Thread, 2-1/2" Long, Zinc-Plated
91104A030 100pcs $3.63
Plated Split Lock Washer, Grade 8 Steel, 5/16" Screw Size, 0.322" ID, 0.583" OD
98023A030 50pcs $4.83
Plated Steel Flat Washer, Grade 8, 5/16" Screw Size, 0.344" ID, 0.688" OD
94895A810 100pcs $5.29
Plated Steel Hex Nut, Grade 8, 5/16"-24 Thread Size, 1/2" Wide, 17/64" High
94820A247 5pcs $9.91 You'll need 3 or 4 packs
Plated Steel Flex-Top Expanding Locknut, Hex, 7/16"-14 Thread Size, 5/8" Wide, 15/32" High
These are the exhaust manifold nuts - THESE MAY NOT BE RIGHT SIZE. I ordered wrong size at first, so check thread. These are the correct STYLE of nut.
54235K58 10pcs $14.40
301 Stainless Steel Worm-Drive Clamp for Soft Hose & Tube, 1-9/16" to 2-1/2" Clamp
Diameter Range, 9/16" Band Width
5097T41 $0.68/ft 25' min
D.O.T. Choose-A-Color Nylon Tubing for Air, Nonreinforced, .170" ID, 1/4" OD, .040" Wall
For injector return lines
Fittings for injector return lines:
Supplyhouse.com
1/4" Brass Compression Insert, Lead …
SKU: C74-100TLF Brand: Jones Stephens
$1.99
http://www.supplyhouse.com/Jones-St...-Brass-Compression-Insert-Lead-Free-Bag-of-10
1/4" Lead Free OD Brass Pilot Line…
SKU: C74-158LF Brand: Jones Stephens
Part of Box of 10
http://www.supplyhouse.com/Jones-Stephens-C74-158LF-1-4-Lead-Free-OD-Brass-Pilot-Line-Breakaway-Nut
Freeze Plugs:
The Dorman Part #'s are
555-012 (3/4" x 0.25"), Intake side of head, three per head
555-018 (1" x 0.26"), Front and back of head, two per head
555-024 (1 1/4" x 0.28"), Under rocker arms, three per head
555-069 (2" x 0.42"), block, five total
Worth noting is that Dorman plugs are made in China and are labeled as such. Perfectly fine quality, by all appearances, but the label bugs me. It was not a trivial cross reference, but the plugs I got from Napa were not stamped "China".
Custom Torque tool details:
Torque Wrench Adapter Calculator - CNCexpo.com
http://www.cncexpo.com/TorqueAdapter.aspx
C=D(A/A+B)
A=Length of wrench (measured from center of lug to center of handle)
B=Length of adapter (measured from center of lug to center of nut)
C=Torque Wrench setting
D=Desired torque at fastener
And some pics: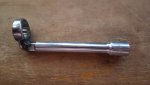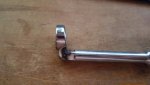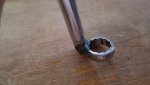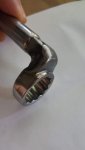 And here are some notes on the dimensions. The corner grinding was just enough to allow clearance.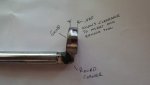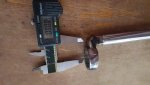 Anyway, that's about the extent of my notes. I may try and come back and edit in some more details...
Hope they help.
ciao
lino