Hi y'all, I'm new here. This site appears to be a valuable resource, thx for the approval.
I'm working on a restoration of a m38a1 and I expect I'll have a ton of questions thru out the build.
Need help with ID....All data plates and patent plates are missing.
Frame is stamped with the following numbers:
2411-21-002
**0-2A7556
First two digits of the second row are illegible due to a bubba weld. I can make out part of the numerals and they seem to indicate a C or 0 for first digit and L or E for the second digit.
Engine number is:
MD 85945
I searched thru the serial number data bases I had access to but quickly found I didn't know what the heck I'm looking for.
Any help would be greatly appreciated.
Thanks in advance,
Dane McGee
Greenville, Texas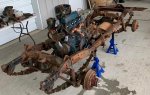 Last edited: