Active member
Steel Soldiers Supporter
The last piece of tubing I needed to install the fuel tank came in today, I drilled out the 1/4" return and spare plug and tapped them for 3/8, so now I have two 3/8" suction lines with sediment filters and one 3/8 fuel return line, the 6.6L has a 3/8 return so I decided rather than choke it down to convert it, I am hoping a single 3/8' suction line will be enough, should be, then I can use the second suction line to feed the MEP-831A on the shelter.
The drive shaft came in today from Driveshaft Specialist in San Antonio, I have to say as much as we talked back and forth for a month or so about this it came in well over $100 north of what was quoted at $485.00 but of course they would always say that the quote was an "estimate" Oh well it's just money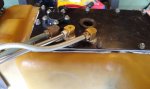 Also the pickup tubes were on BO from AMG (after making an inquiry about them) with a wait period of "several weeks"
So I ordered them from one of the other HMMWV retailers on the 13th, when I inquired on Monday (the 4th) I was told they were on back-order from AMG, DUH! so they have the same inventory system and giveadamn as AMG, fortunately for me I also ordered a couple off of Fleabay at the same time and they came in NO PROBLEM, gotta say much happier with them than the so called "specialty shops"
Last edited: