Well-known member
Steel Soldiers Supporter
All-
As most of you are aware, I've recently been blessed enough to get a 1952 M37 to restore.
In the process of researching, I had come across the "Dodge M37 Restoration Guise" by Davis Ahl and had asked if anyone had a copy they would be willing to part with.
@rtk
Stepped up and gifted me the copy and stated he would send it to me and he "threw in a few goodies".... which included some awesome pics of his MVs, a GREAT key chain and P38, some bumper stickers from his local MVPA chapter and an honest to God original 1955 physical copy of the TM 9-8030!
Between him,
@G744
@Soupermike
and others who have reached out with their knowledge and willingness to help, I am truly humbled and blessed to be a member of this community.
All I can say is thank you, and know I'll do my part to keep the spirit of comeraderie that is alive here going.
I am truly a mouse among giants.
Thank you gentlemen.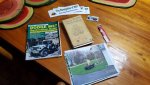 Last edited: