Member
Steel Soldiers Supporter
I have an '86 K5 with a manual tailgate window. Back in April the window bound up due to a rusted through sash and the pot metal "clutch" that couples the handle to the regulator broke.
I used that as an excuse to go through it, and cleaned and greased the regulator, replaced the rollers, replaced the flocking in the side channels, replaced the felt seals on the top of the tailgate, replaced the broken handle and clutch, replaced the sash, and replaced all the rubber seals on the shell. Spent >$600 on parts for a $2000 truck, and assumed it would be good to go...
The window never worked right with the new felt pieces, and was really tight to roll up and down. I figured the felts would wear in and take a set over time, but they didnt. Now 6 months later, my new handle broke again...
I have the regulator completely removed, and the glass still will not go up and down freely. It binds from about 30% raised to 80% raised, and will travel the first and last bit smoothly. I'm out of ideas, and about ready to go spend another $1500 on a soft top, pickup tailgate and paint and send this tailgate to the crusher... Are there any adjustments I might have missed, or a procedure for getting the side channels lined up or something? Maybe my tailgate frame is bent somehow? Any suggestions are welcome. Section 10-22 in the -20 TM covers the rear window regulator replacement, but does not provide any suggestions for alignment or troubleshooting. Any other resources I should be looking at?
EDIT:
I messed around with this again for several hours tonight. Took the glass out, checked the track alignment, cleaned and greased everything, and no change.
Tailgate frame seems to be straight. The glass is curved however, so it does not match the shape of the straight tailgate?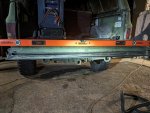 The window seems to be binding against the inner felt strip along the outside 4" or so of glass on each side. Is there anything that can be used to lubricate the felt seals across the top of the tailgate? Silicone, graphite, etc?
I cannot see any possible way to adjust this other than modifying the tailgate frame. It does not seem possible to bend it (too stiff in the out of plane direction), so it would be cutting/welding to open up the clearance between these felts...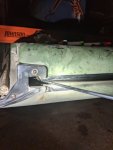 Between the red lines (5.5" above the bottom of the glass to 17" up) the glass binds. Outside that it moves freely. The curvature of the glass seems more exaggerated in the center section, not sure if that matters...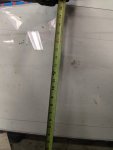 Last edited: