Too late... Got the switch wired up, got the mirrors hooked up/working correctly, and now...

The other one is also on as well, just after this pic was taken.

They do shake a bit so I'd have to say they're not "done" yet, but they are on and functional and MILES better than the OEM ones. How did you reinforce yours?
Looks great! I used some aluminum plate/washers for the top mounts but the bottom mounts need something more because the mirror pushes in on the door skin. In other words, plates on the inside of the door won't do anything on the bottom. I welded a bar to the door skin to distribute the load. Dude on Broke Overland (Youtube) used screws from the inner door skin to support the outer skin - I thought that was a pretty genius idea. Yours are mounted closer to the hinge than mine which probably helps a bit.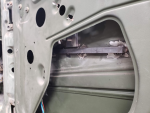 Did you use reinforcement plates inside the door for the mirrors?
Kinda - see above