Well-known member
Supporting Vendor
Soliciting Opinions
... My boom winch cable has some "scuffs" and at least one obviously "mashed" spot on it. Cable seems to be the oldest cable on the three winches on my truck. It may have not been replaced since it left military service. It actually has a rusty look to it. I have done a little reading and looking but have not found the obvious "right and best answer".
I saw mention of stainless cable. Seems appealing since it does live outdoors. I have cable lube that is meant to protect winch cable - but - would stainless be flexible enough in this application? Is that a possibility?
That neat connector (pictured below) - TM9-2320-272-24P-2, Page 499-1 calls it " PAOZZ, 4030007065553, 19207, 7065553,
SOCKET, WIRE ROPE
1 UOCAL, V18, ZAL". Does it just unbolt from the old cable and connect onto the new cable?
EDIT:
(MORE Info available on SteelSoldiers by SEARCHING for "ESMET") Thanks
zebedee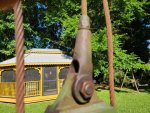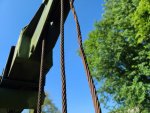 Last edited: