Well-known member
Steel Soldiers Supporter
I wanted to discuss a minor difference between a older style master cylinder (probably original) off my
1997 Pribbs M101A3 trailer
.
First, a side-by-side comparison. The new one is (obviously) the shiny silver, which is the "marine" (wet environment) finish:
Part Number: 10614-M
https://www.crofttrailer.com/10614-m-hydro-act-actuator-master-cylinder-marine-finish/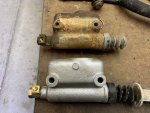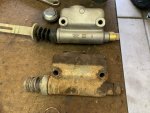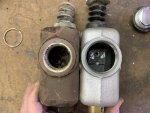 For reference, the original master cylinder used this vented cap with the 'U' shaped pipe and coolant hose: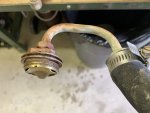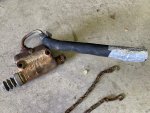 As can be seen in the third picture, the new master cylinder has a wider opening, 1-5/8" to be exact, comes with a different square topped vented cap, and uses a rubber gasket instead of a copper crush ring. I do see that Croft also sells an alternate, tall, rounded top vented cap, for an additional (at the time of this writing) $60.
What is the benefit, if any, of this cap?
Part Number:
850279
https://www.crofttrailer.com/850279-hydro-act-actuator-metal-vented-filler-cap/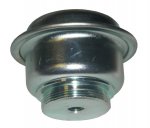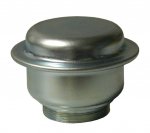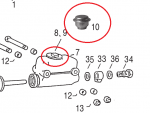 Last edited: