Well-known member
Steel Soldiers Supporter
Last week I mentioned developing an easy to use spin-on fuel filter adapter for use rather than the the WIX 24470
Here is a look at the first production parts off the CNC machine and mounted on my 002A for your viewing pleasure.
These adapters drop right in place of the original Fram canister housings used on Mep-002a through 005A and maybe 006A ( I don't own one to verify )
They are drilled and tapped on top to utilize the original 3 mounting bolts.
They are tapped on the sides to accept the original 1/4" NPT 90* fittings from your housings.
Even the original fuel lines can be used in multiple different configurations.
You need NOTHING else other than the filters of your choice with a standard 1-14 center thread
The O.D is equal to the outermost Dia. of the Fram housing for exact clearance and will accept every filter with a gasket dimensions between 2.375 ID and 4.0" OD.
This design will eliminate all the plugs and adapters needed when you use the WIX 24470 as well as needing to fabricate an ugly angle bracket.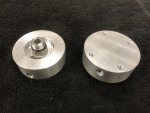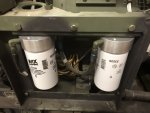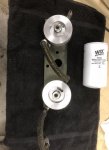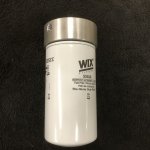 It will also eliminate the potential leaks associated with the center bolt and canister gasket on the original Fram housing
You only need a 9/16" socket and a 5/8" wrench to do the entire conversion and it takes 15-20 minutes to retrofit a machine.
Simplest way to install is to remove the input line from your original water separator. remove the outfeed line at the 90* elbow next to the check valve.
Remove the 3 bolts attaching the original mount to the frame and lift out the entire filter canister / bracket assembly.
Remove the remaining hoses and the 3 bolts attaching each of the 3 housings to the bracket.
Remove the 90* fittings from 2 of your original housings.
Use thread sealer or Teflon tape and install the 90* fittings into the new Spin on adapters.
Mount the new adapters to the bracket in your preferred location using the original 3/8" bolts, being mindful of flow direction and your preferred hose routing.
Reattach the jumper hose between housings and the outfeed hose to the output of the last housing.
Remount the entire bracket assembly to the generator frame using the original 3 bolts.
Reattach the infeed and output hoses.
Spin on your favorite fuel filters and / or fuel water separator.
Stand back, admire your work and enjoy!
Once I upgrade my SS membership I will create a Classifieds ad. Until then feel free to PM for more info.