I dropped the MT654 valve body on my 1991 M936A2.
Before I put new oil in, considering putting straight 10W vs OEM 10W40.
If my reading is any good, it appears that the HD transmission fluid is straight 10W oil, which is basically a cold version of 10W-40
I'm looking for 1st hand opinions of people that have done it and. what your results are.
Also, in googling, I did find this video from 6 years ago of an older A0 or A1 unit.
I think all the transmissions were the same, but I could wrong.
I asked question on the YT, but don't know if the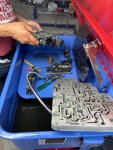 creator is still active.