Well-known member
Steel Soldiers Supporter
On the topic of LEDs, the answer to why I used an LED blackout light also came down to size, but in this case, the size of the fixture itself.
A previous owner had done away with the original blackout light and the holes in the hood where it had been mounted.
Early on, I had intended to put an original style light on the bumper or in the grill guard, but when it came to figuring out how/where, the light and it's guard were just too big to fit without looking really Mickey Mouse. Even the light without the guard was rather big.
I had a couple of LED lights I'd picked up somewhere, and these are quite compact. And, as it turned out, bright enough to actually be used.
I had an NOS black one and a rather scruffy green one with flaky tan paint. The green/tan one had a sturdier base, the shroud didn't stick out as far forward, and it was the brightest, so it got the nod.
I welded a tab to the grill guard and tucked the light back where branches, etc., wouldn't catch on it. It is wired to it's own switch on the dash.
Do I really need a working blackout light? No, but I figured if it was there (which it needed to be since almost all MVs have them), it might as well get wired up.
The row of green dots on the brush guard are camera reflections of the six LEDs in the blackout light.
Cheers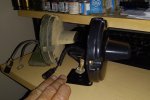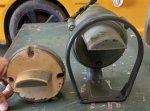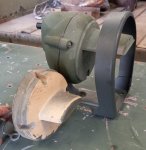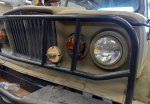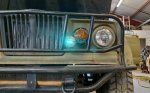 Last edited: