Hello all, haven't been on in years. I am looking at what I believe to be a 1986 AM General 923 (I think-its what the seller says it is) to use in a Hay Farming operation.
Found the truck locally on FB Marketplace. I know very little about this truck or these trucks in general. Don't even know if I'm describing it correctly. Has 4500 miles on it. Tires look excellent. 8.3L Cummins/Auto and has a hardtop. Seller says about 20' of frame behind cab. I have not gone to look yet. Its about 50 miles from me. I like that the truck is painted white.
Originally, I was looking at civilian IH or Freightliner 6x6's at 4-10 times the cost. I don't think I will have enough money to pursue that option anymore.
My task for the truck is to carry 8-10 4x4x8 square bales at 1700lbs each, so total load would be 14,000-18,000lbs or 7-9 tons off of hilly or muddy/soft farm fields, then over the road about 5-10 miles to a drop off point, then empty back home.
Short trips maybe 50-75 times per year.
Questions:
1. Are they hard or expensive to repair & maintain? (I already have an 8.3L Cummins-familiar with them)
2. Plan to tag the truck as a PA Farm Truck, but how will I tag the GVWR? I have my CDL, so I can drive up to 80K with air brakes, but what can these trucks be tagged up to? I'd like to carry up to 10 tons, or 20,000lbs. Can these trucks be tagged at 40K pounds? Or will I run into a problem?
3. Surprised it doesnt have a PTO winch-I thought they all did.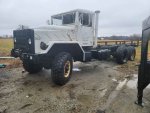 Log into Facebook to start sharing and connecting with your friends, family, and people you know.
www.facebook.com
Last edited: