Active member
Steel Soldiers Supporter
So I saw the connectors under the passenger door a long time ago but I was not sure how to use them.
MAdams
mentioned them in one of his videos but I was still not really sure how to use them.
Well, I changed the fluid and filters in my transmission and I put in too much fluid so I thought that maybe I could use the valves to drain the excess. I did some research and it looks like I can drain some fluid and it is easy.
There are two of them, one for engine oil and one for transmission oil. They look like this: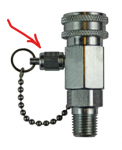 The red arrow points to the output port. That is where the oil will come shooting out. You need to unscrew the little cap that has the chain and then turn the knob to get the oil flowing. The knob is at the top of the photo and it looks like a connector but it is not. Turn the knob 1/4 turn and then it will send the oil out the port. On my truck it was all covered in that silicon crap they brush on everything. So I spent a long time getting that junk off. My output port was pointing down which is good and I thought about putting a hose on there but I will try just holding a gallon jug under there and see how long it takes to fill. The truck should be running because it uses the pressure from the pumps to push the oil out.
I will update this thread with my results.